Social media is a time thief, ask any employer and they will probably tell you it's the number one drain on their employees attention span. It's easy to get caught up in a YouTube loop, get pulled in to a Facebook conversation, or to spend hours checking and re-checking Twitter. So if you're using social media for business purposes, you have to be sure youre making the most of your time and using it wisely. Here are some tops tips for keeping up appearances on social media without giving up your day job.
As with most things, to be effective and time conscious, it pays to have a schedule in place. Not only will this help you to cover all of your bases, but it will also help when it comes to time management. If you know that updating your Twitter feed normally takes you 5 minutes per day, then after fifteen you know you're just wasting time.
Here is a suggested agenda, which will be entirely adaptable based on the platforms you're using.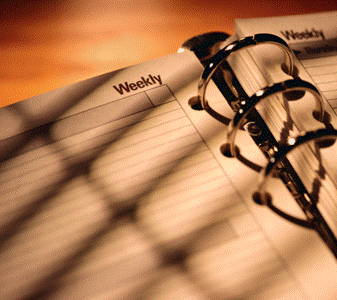 Every Day
Check in with your various profiles. On Facebook, post a link or a status update about your business or a recent news story. Schedule tweets every day, if you're using Tweetdeck or Hootsuite you can even schedule your re-tweets.
If you're scheduling tweets, then you can do this daily or weekly. If you do it weekly make sure you check in and update them based on currently relevant topics. You may see something you simply can't resist tweeting.
Monday
Don't make social media the first thing you do on a Monday morning. Firstly, you have far more important things to be doing, and secondly, if you're using it for business purposes then things won't get started until around lunch time anyway. In the UK, Twitter is busiest between 11am and 3 pm, which coincides with tea breaks and lunch; the time which feels most appropriate for such activities.
Go through your RSS feed and pull some stories from the weekend.

Spend 5 minutes on each of your social networks, post something, but just use this as a check-in.

Respond to and private messages and offer to move business inquiries offline.
Tuesday
A great day for a blog post, wouldn't you agree? This will give you plenty of time to receive responses, and to push it across social networks. You don't have to come up with a new blog post every week, or restrict yourself to just one, but it helps to have an aim in place.
Wednesday
Check the LinkedIn questions for any industry specific questions which you may be able to help with. Spend some time browsing Pinterest for interesting content, repin, like follow to your hearts content. This may even help inspire a blog post or two.
Thursday
Focus on interaction today; pose questions, ask for feedback, spark debate, retweet, like posts, comment of photos; anything that will grow your reach and make you a valuable part of the social media community.
Friday
Dont forget to #ff today, it's an important part of Twitter etiquette, it shows that you have indeed been paying attention to what is happening on Twitter all week, and that you're an active participant.
If you blog every day, plan your posts for next week now, there's nothing worse than the feeling of panic which washes over you when you're struggling to come up with content on a monday morning.